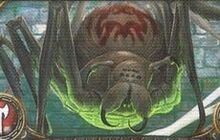 Large, aggressive, and frequently hunting in packs, there are few critters more dangerous than the venomous cave spiders of the Shadow Peaks. In recent years they have spread far beyond their usual territory, and some of the spiders now hunt with numerous sticky webs...
Ad blocker interference detected!
Wikia is a free-to-use site that makes money from advertising. We have a modified experience for viewers using ad blockers

Wikia is not accessible if you've made further modifications. Remove the custom ad blocker rule(s) and the page will load as expected.