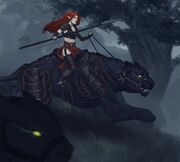 "The next time we meet, my love...I will kill you."
As if falling in love with a mortal wasn't already hard enough, Lana had the misfortune of loving a knight of the Daqan Lords during the Runewars. Ever since witnessing the massacre of Summersong, the fierce Latari Leonx Rider hated humans with a passion. At her one last meeting with her Daqan lover, Sir Caras, Lana vowed to kill him the next time they met. 
Ad blocker interference detected!
Wikia is a free-to-use site that makes money from advertising. We have a modified experience for viewers using ad blockers

Wikia is not accessible if you've made further modifications. Remove the custom ad blocker rule(s) and the page will load as expected.