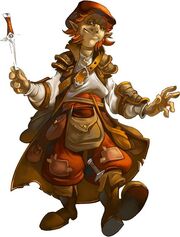 "
Don't think of this as you being robbed. Instead, think of it as you donating to a worthy cause.
"
A tinker, a tailor, a minstrel, a thief, Tomble Burrowell has wandered the roads and valleys and forests of Terrinoth for more years than most would guess, gnomes being a deceptively long-lived people. Recently, the death of his clan at the hands (or, more accurately, the talons) of a beastman war party has hardened Tomble, and beneath the quick wit and easy jokes now lies a bitter resentment and anger that pushes him to take bigger and bigger risks.
Ad blocker interference detected!
Wikia is a free-to-use site that makes money from advertising. We have a modified experience for viewers using ad blockers

Wikia is not accessible if you've made further modifications. Remove the custom ad blocker rule(s) and the page will load as expected.