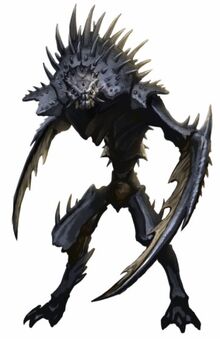 The origin of these terrifying creatures is a great mystery, and no scholar in his right mind would dare to investigate lest he discover more intimately what they are capable of. With no intention or goal besides mindless slaughter, these bladed horrors that infest the ruins of Sudanya are nigh unstoppable, especially when found in large numbers.
Ad blocker interference detected!
Wikia is a free-to-use site that makes money from advertising. We have a modified experience for viewers using ad blockers

Wikia is not accessible if you've made further modifications. Remove the custom ad blocker rule(s) and the page will load as expected.